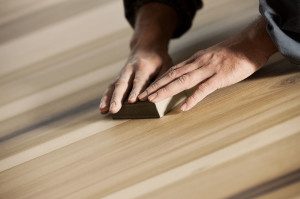 F&L Floorworks uses only the highest quality finishes, to help preserve the wood and act as a chemical agent that create a lasting bond with the wood. That's why we created the F&L6 System™. We truly believe that the F&L6 System™ is unique in the industry and provides the best finish available for finishing hardwood floors.
The F&L6™ process:
In most cases, a quick coat of semi-gloss finish is applied to create a molecular bond between the wood floor and subsequent coats of finish.
The finish is buffed with a proprietary order of grit pads to achieve a specific texture that increases durability and quality of the final finish.
The floor is then triple vacuumed with our DCS and the tacked with a special tack cloth to remove any grains of dust that might mar the finish.
Then, depending on your desired finish, we apply multiple coats while repeating the above process, to achieve a beautiful and durable floor. See Finishing lusters for looks >
Dry Time
Being that Westchester, Rockland and CT are not exceptionally humid areas, the quick coat can dry in as fast as 30 minutes. The top finishing coats are ready for light foot traffic after 8 hours. Do not expose the finish to rugs, cleaners, spills or heavy traffic for one week. Drying times are based on conditions of 77°F and 50% relative humidity in your home.