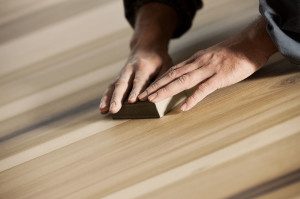 F&L Floorworks Dustless Sanding only uses hi-efficiency HEPA DCS (Dust Control Systems.) to contain over 99% of the dust particles from entering your home. Each vacuum must effectively capture 99.9% of the dust that is dispersed while sanding and polishing. In addition, great care is taken to create a barrier between the sanded areas and the rest of your home.
This is not only to make cleanup easier, even a spec of dust can mar the final finish of your floor.
Dustless sanding specialists
Dustless Sanding can be done pretty quickly, depending on the size of the area and the condition of the wood. Repairs and touchups are made before staining and finishing. Then the newly sanded floors can be stained and finished to your tastes. As a proud member of The National Wood Flooring Association (NWFA), floors are refinished to their exacting standards.
Dustless Sanding should be a painless part of your project, and with dustless sanding specialists using the proper equipment, it will be.