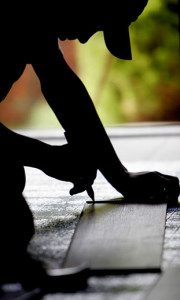 COLOR tells a story.
And so does how you apply it.
99% of companies are applying stains with an applicator. That's cutting corners… Not us!
To get the exact color that you want for your floors, we stain the wood on our hands and knees. One technician applies the stain, while another wipes the excess off. It's the "old fashion way" of doing it. The job comes out much better this way.
Staining Hardwood Floors
Here's part of the process:
1. Understand the wood species and its staining properties. Some woods will absorb stains quickly, while others need multiple coats to get the desired color. Our technicians understand your needs and are experts at getting your perfect color out of the wood you have chosen. The application and stain for these different species can vary drastically. F&L Floorworks has refined a system of staining hardwood floors to get the correct dimensions and effect desired, every time. We work with every species of wood yet for staining, we prefer Oak. A great wood that can absorb stain uniformly and lasts.
2. Wait time. to minimize the impact on your lifestyle, we use quick drying, low-odor stains. After the perfect color is achieved, the floor is allowed to dry. Then we finish it in your choice of luster.